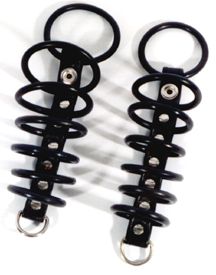 Click for larger
Your first question is probably going to be... why rubber? Simple; there have been too many horror stories about the metal ones. While few if any have actually been injured by the metal ones, there have been many a panic session, to say nothing of bruising and pinching when some things just didn't want to come out. While all you normally need to do to get out of these is go soft (if you can't, we recommend a quick dip of the offending member in a bowl of ice water), if you absolutely have to, rubber rings are a lot easier to cut then metal!

Rubber, at least this type of rubber, holds just as well as metal, and a couple of years from now the rubber will still be rubber, while the metal may have had its nickel plating chipped and flaked.

We offer this unit in two sizes, standard and large (umm... well endowed?). Both have 7 rings, and both have a convenient "D&quot ring at the end of attachment.

Another nice feature is the largest ring, the cock ring that hold it in place, is attached with a snap, allowing you to exchange it for any of our rubber cock rings should the supplied one not be quite right for you. This is especially nice if you plan to use it on multiple others.

Sizes of rings on the standard (starting with the cock ring) are (in inches):

1 3/4, 1 5/8, 1 1/2, 1 3/8, 1 3/8, 1 1/4, 1 1/4

On the large:

2, 1 7/8, 1 3/4, 1 5/8, 1 1/2, 1 3/8, 1 1/4

We can make these with any combination you like. The price is $3.00 more than the larger size. To order, just pick custom, and use your comments box to list ALL the sizes you want (7 rings) from largest (cock ring) to smallest. You can select any combination of these sizes:
1 1/16" / 1 1/4" / 1 3/8" / 1 1/2" / 1 5/8" / 1 3/4" / 1 7/8" / 2" / 2 1/4"
Sorry, but other size rings are currently not available.