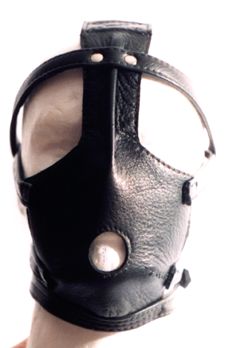 Click for larger
I designed this a long time ago (OK, you can stop with the very long time cracks), specifically for cigar scenes, one of my personal favorites.

Because it can be adapted to other things, and because so many people who had been here and saw/experienced it in use wanted it, I finally am breaking down and making it available.

The unit comes in two configurations. First is the basic unit, the one in the first set of photos. It can be made with any size hole you would like, just say what you need in the comments box.

The second configuration is exactly like the first, except that it has 4 snap points on it to accept our "add-ons". There is no extra charge for putting these on, and all you have to do, again, is put a note in your comments box. If you don't plan to use any add-ons, just get it plain, but if you don't add the snaps now, you'll have to return it if you want to add something at a later date.

Also shown below is the gag option, which provides a nice long thin chunk of leather to chew on (or deal with).

Lastly, but not shown, is a snap on flap with any size opening you wish (or none at all). You could get a mouth hole suitable for sucking, and then a flap with no openings to quiet things down. Just tell us, and we'll do the rest.

Made of two layers of garment leather throughout, so there is no "bad&quot side of the leather. Generous straps allow it to fit almost everyone (always put that almost in there), even over a hood. Lots of work goes into this, and the result is a really great fit, and sensation!