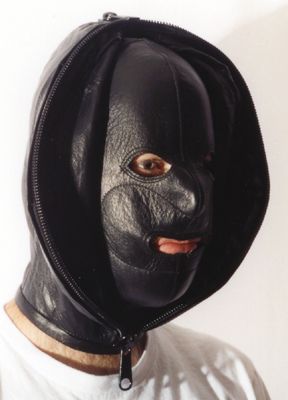 Click for larger
There is more cow in this hood than any other! We have taken one of our snug lined hoods, and encased it in an outer lined shell that zips closed. This allows you to have someone laced into an open eye open mouth hood, and with the quick pull of a zipper, encase them completely!

In the photos below you can see the open shot of the hood, the almost closed shot (showing how the zippered opening can be adjusted anywhere on the hood), the fully closed shot, and a shot of the interior lacing.

A lot of versatility here, and a great head cocoon with the 4 layers of leather (not just 2 like our competitor's). We think you'll find it quite the feeling!

Like all our hoods, this is custom made for you, not off the shelf. Please be sure and follow the link to measurement instructions, and provide needed measurements.

#1125 - $298.00 &nbsp


Please see important hood option and measurement information HERE before ordering. When ordering on-line, please be sure and include these in your comments box!