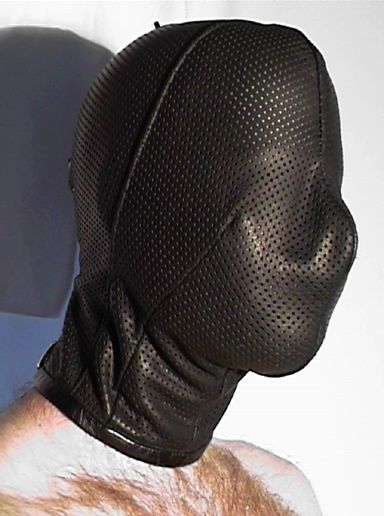 We made this image especially light so you could see the perforations a little better
Click for larger
In a lot of ways, this is really a fun hood.

Made with no openings (we can do openings if you wish), this hood keeps the wearer totally encased, but at the same time, totally able to see, talk, and breathe.

Really great in a bar. The low lighting in a bar will make the hood appear to be solid unless you are standing really close to the person. Lace it on the boy, and let him walk around... you'll enjoy the stares. Perfect for the slightly claustrophobic as well. As with all our hoods since we started in business, it is a full rear lace, with leather vent (the "flap&quot that keeps hair from being tangled in the laces) and a bottom pair of small "D"-rings at the bottom that can be locked with a small padlock .

Like all our hoods, this is custom made for you, not off the shelf. Please be sure and follow the link to measurement instructions, and provide needed measurements.

#1151 - $174.00 &nbsp


Please see important hood option and measurement information HERE before ordering. When ordering on-line, please be sure and include these in your comments box!