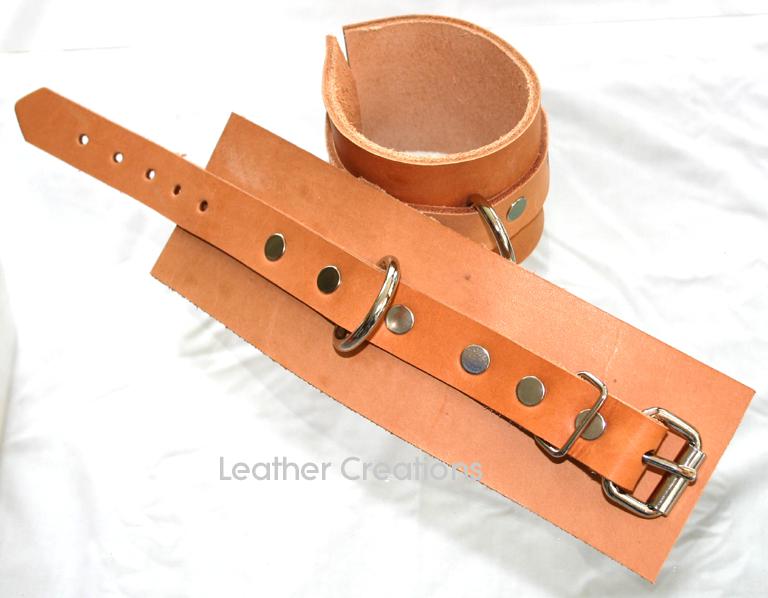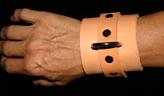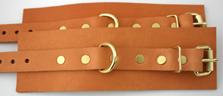 Click for larger
OK - gotta pull out the "old" card again - although as a good friend says, "not old, experienced".

When I wrote this page, it had been 43 years since my first S&M experience, and way back then (ya know - gas lights, streetcars) the huge majority of restraints were made of natural cowhide. By natural, I mean tanned, but undyed, unfinished, and, after a year or so of use, stained as hell.

The really cool part of them is that they showed their wear, each bottom's sweat and skin oils added to the look (now called patina, with one's nose in the air). The more marked, the more they said that the owner played.

The other thing about this leather is that it wears like hell, as in it lasts forever as long as it dries out between uses, and gets more flexible the more it is used. I still have the first pair of restraints I made (when I was 14, thank you very much), and I have a photo for you (one of the small ones that are clickable below and to the left). Very childish in construction, I was a child actually, but they still work! And yes, they did get use, even then, I just hadn't quite made the connection; it was play then, now it is "play".

I am bringing back this look with these restraints, and the matching bondage collar . They are just as strong as all the rest of our restraints. They come in a light to slightly darkened tan (which will vary throughout the leather), and darken with age and use. Available in nickel or brass hardware (brass was very common then), and are completely hand made - no die cutting, no machine set rivets. Each one is cut and crafted completely from scratch from a tanned cowhide.

Pictured here is only the wrist restraint. The ankle is exactly the same, just larger.

In keeping with the retro theme, these are available only unlined, non-locking, and with a D ring. Locking restraints weren't needed... you just got tied so damn tight there was no way you were going to be able to unbuckle them anyway. Also - if western play is your thing (if you've never been fucked over a saddle, don't knock it), these fit in perfectly!