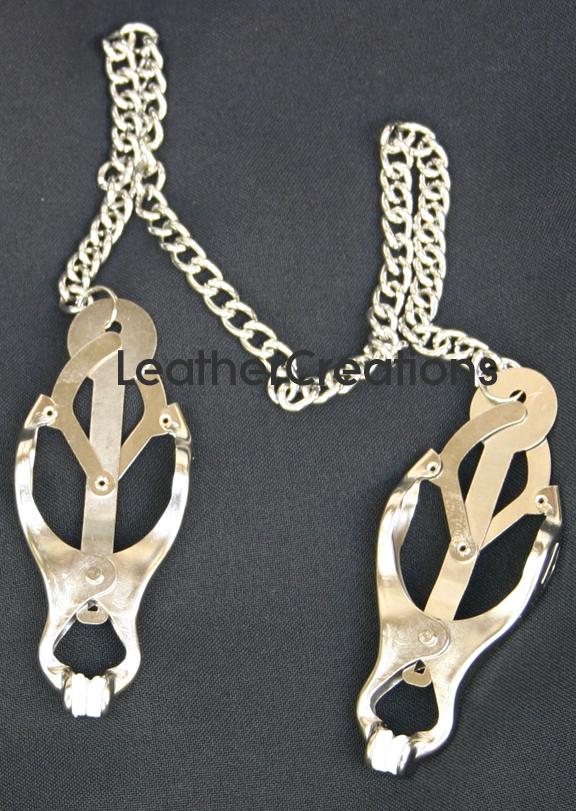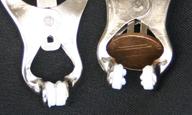 Click any larger
The Japanese clover tit clamps are probably the most popular of tit clamps, mainly because of their little secret; not the severity of their bite, but that the harder you pull on them, the tighter they grip (the center section, on which the chain is connected, tightens the ends when pulled).

These aren't the true Clover Clamps.They have gotten so expensive that we stopped selling them. However, we have been able to source a very similar clamp that works just as well, just the pivot mechanism is made of a slightly thinner material and the chain is a little lighter (but still very substantial), and tougher than your tits I'll bet. Unlike some other shops, we are telling you these arent Clover brand, not just selling the lesser expensive ones without saying. The rubber tip is just as "grippy", and I can promise that the wearer won't be able to tell the difference, but you will save! PS - you should also know that a lot of people are offering the Clover clamps and not really providing them. The Clover Clamp is a registered trademark of the specific manufacturer.

You may use our Cock Ring and Chain attachment and/or our 5 ounce weights with this clamp.

If you order this alone it ships via first class mail (in the USA) for $2.75, despite what the cart says.