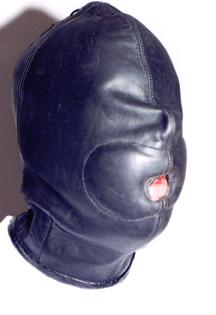 This is a unique adaptation of the snug hood. Originally created for cigar scenes (notice the size and shape of the mouth hole), it is the same as our other snug hoods, except the area around the mouth is thickly padded, and provides a tight seal, limiting the source of air to the opening provided. Since making this, others have seen it and requested it with a grommet mouth hole, or with slightly smaller or larger openings, for various types of play. We have, therefore, added it to our line. Please note that you can specify eye and nose openings, if desired. The mouth opening can be as shown, with a grommet, or with a larger or smaller opening - just let us know!

Like all our hoods, this is custom made for you, not off the shelf. Please be sure and follow the link to measurement instructions, and provide needed measurements.

Check the chart if needed to see all the options.

#306 - Padded Mouth Snug Hood (or Cigar Hood) - $160.00

Also available with collar

Please see important hood option and measurement information HERE before ordering. If ordering on-line or by mail or fax, please be sure and provide these measurements with your order. Also be sure and tell us what size and type of mouth opening you prefer. Simply use the comments box during check out.