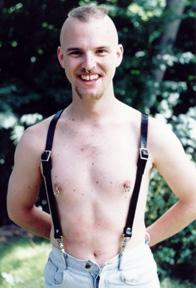 Click for larger
Made of a very light weight latigo, soft and supple. With swivel "Z&quot clips for attachment, and in two widths, both with either "O&quot ring or halter square. These offer a clean stylish look, for something big and bold, check out the heavy latigo suspenders !

NOW AVAILABLE IN LONG SIZES...
How to decide if the regular or long is the correct size choice:
Measure from the top of the middle belt loop in back, over the shoulder, to the top of the belt loop you would use in front, on either the right or left side - if the measurement is over 42" then order the long.

Shown below are also close ups of the halter square and the O-ring backs.