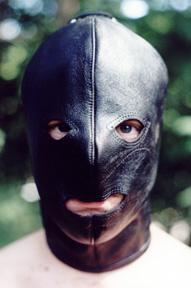 Click for larger
Despite the bulk of the leather, this hood is designed to fit every contour of your head. An open lace back enables you to pull it as tight as you want, and the bottom loop is large enough to hold a small padlock (this is not added if you select to add a collar). With your choice of openings and flaps, it can be totally confining, or quite open. The lined snug hood is two layers of leather, with the "good&quot (skin) side facing out and in. Many of you may have also seen this at Bound and Gagged or KW Enterprises as the "not for panickers hood". The sold this hood under that name on their site, and in their magazine.

We also can line the snug hood with rubber (neoprene) as well as leather, for an entirely different feel and effect. Air is greatly restricted to only the openings you choose, and the coolness of the rubber soon changes to encapsulating warmth as the body warms the hood. Due to the design of the rubber lining, we cannot offer it with pin pricks or nose holes. But choose open eyes, open mouth or grommet mouth as you desire.

Like all our hoods, this is custom made for you, not off the shelf. Please be sure and follow the link to measurement instructions, and provide needed measurements.

Please see important hood option and measurement information HERE before ordering. If ordering on-line or by mail or fax, please be sure and provide these measurements with your order.