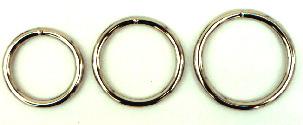 Highly nickel plated steel, available in five sizes, all measured as inner diameter OR black steel, in three sizes. We also have these in a chrome plated, seamless variety - check them out here .

How to put on a cock ring
(don't laugh, there was a first time for everyone).