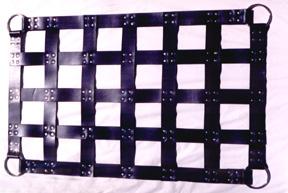 Click for larger
You are probably familiar with the woven design, but our optional strap is a little different. Designed to be used with additional anchoring loops in the floor (but works well without the anchor points), it holds the person's body in the sling, preventing movement. Our standard slings are 18 X 33 inches in size, providing good support for most users (our personal sling is a standard). Our jumbo slings are a generous 24 X 38, for larger folk, or for those that just want more bodily coverage. Chain not included.

Our solid slings are available in the same sizes, and with or without the same belt.

Our solid slings are held together by screwposts, which will not come apart if you tighten them occasionally (just a screwdriver), but if you don't, they may eventually come loose. While we strongly just suggest tightening them, if you think you're like me and will forget, we sell a 5 pack of the screwposts so you don't have to try desperately to find one at the most inopportune moment.