Click any for larger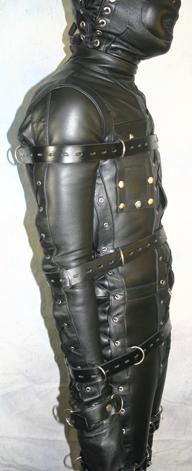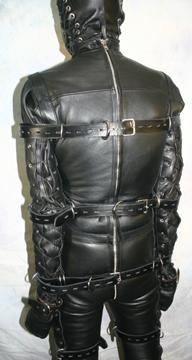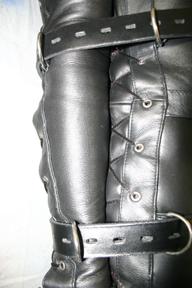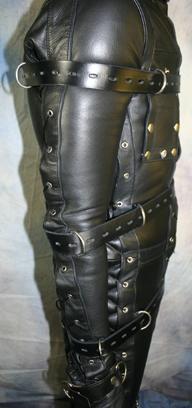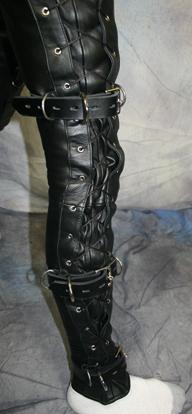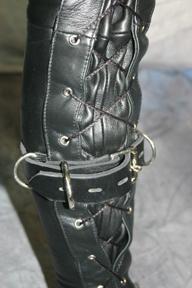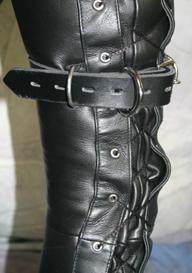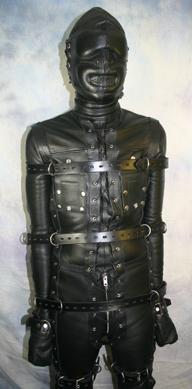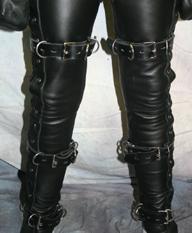 Click any for larger
If you're the type that can't resist making a tough thing tougher (I know I can't), then add custom made straps to your suit!

Made of heavyweight latigo, punched the entire length of the strap, and lockable, this will make it absolutely, totally, and irresistibly impossible to get out of the suit!

The "D" rings on the suit are placed there as guides and anchors. Like anything attached to garment leather, they are not intended as tie down points. These belts are able to do just that as well! Instead of a belt keeper into which you slide the tongue after the buckle, they have a heavy 1 1/4" "D" ring that you can fasten down just about any way you choose.

The suit was designed with these in mind. The D rings on the suit are on the best possible points for the straps to pull you in and stop movement. You can order full body straps as in the photos, or arm and leg straps (we have the leg versions on this suit). You can take off the leg ones, combine the two into one long strap, and strap the legs together. Put the leg straps on with "D" rings to the center and clip them together. No walking. Put them toward the outside, flip him on the bed or bondage board face down, spread the legs and tie them off. You're done! Remember, the suit has a three way zip for easy access!

About the straps in these photos. We were playing around with variants, sizing, and so forth. They are not made of the greatest leather in the photos, I wasn't about to use up great leather playing around with concepts. Yours will be my usual top grade latigo.

These go with the suit, and therefore you can't simply order them up. You will get instructions on how to order these, and to measure for them, along with all the information you get when ordering a suit. It is very simple, and then you can just come back here and plug in the information I give you.

Enjoy the photos - I enjoyed having them taken. Then let me know you're ready to take the ultimate bondage suit to the next level!