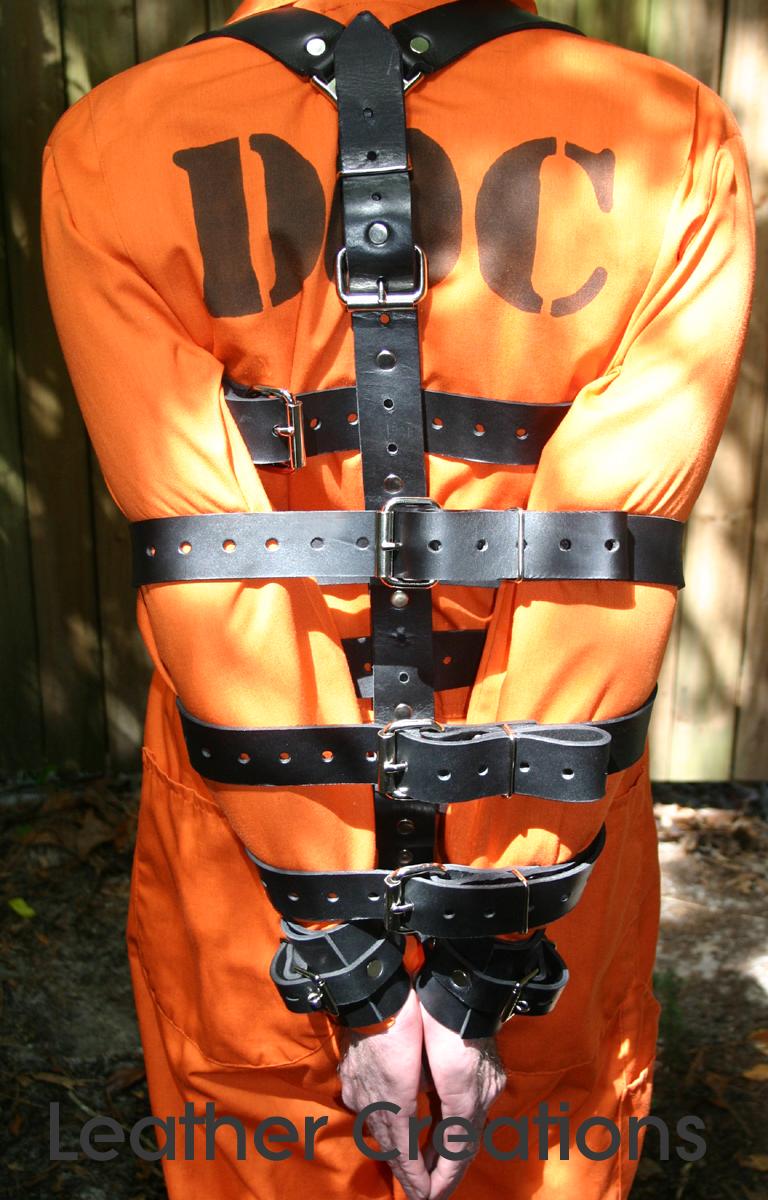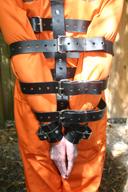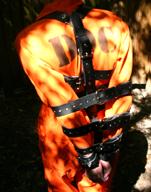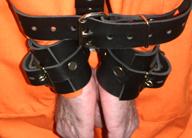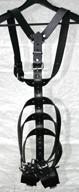 Click any for larger photo
This intense arm binder is both tough, and intelligent!
There's a lot to love about this design, I'll give you some of the points:
No collar. The arms are the focal point of any behind the back restraint, and choking the wearer should not be part of the design. The strap attaching this to the body wraps around the shoulders, completely avoiding the neck.
Inescapable. Note the wrist restraints? They lock with two simple little padlocks (not included) and they are permanently attached to the rear strap. Claw all you want, this isn't coming off!
Adjustable. What good is a restraint if it won't adjust to different wearers? Note in one of the photos (the one of just the unit) that the arm binding straps can be placed in a whole bunch of different positions. That same rear strap is adjustable to raise and lower the height of the unit. I'm is in the next to the longest setting (I'm fairly tall), but my boy at a full 8" less in height fits into this just fine.
Broad straps. If you're going to make it tough like in the photos, a thin little strap is going to cut off circulation. These are a broad inch and a half.
Heavy leather and hardware. If you have bought any leather from us you'll know that we source only the finest 9-10 ounce Latigo leather, and hardware that is big and strong. The unit in this photo was actually made from scrap leather, as it was a test piece. If this is scrap leather, you can imagine how perfect the good stuff is.
Dual purpose binding straps. Because the straps are removable you can always use them for other nefarious purposes. They're punched almost all the way to the end in both directions.
All these design and features come at a reasonable price, so make your sub (or you) really happy (or is that a combination of happy and unhappy?) with this intense heavy duty arm binder!
#476 - $177.95 &nbsp