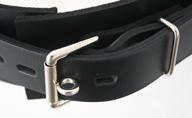 Click for larger
This guy will keep the wearer quiet, or at least muffled, and can be worn for long periods because there is nothing that enters the mouth. There is a foam padded garment leather lining over the mouth section. Collar shown is part of the assembly.

Now available in an all locking version! Uses our locking tongue buckles, so you don't have to lock it for it to work. Takes a total of 6 locks (not included). If you want to add the locking option, select both boxes below before adding to your cart.

Bound and Gaggged and KW Enterprises purchased this from us and sold under their name for many years.