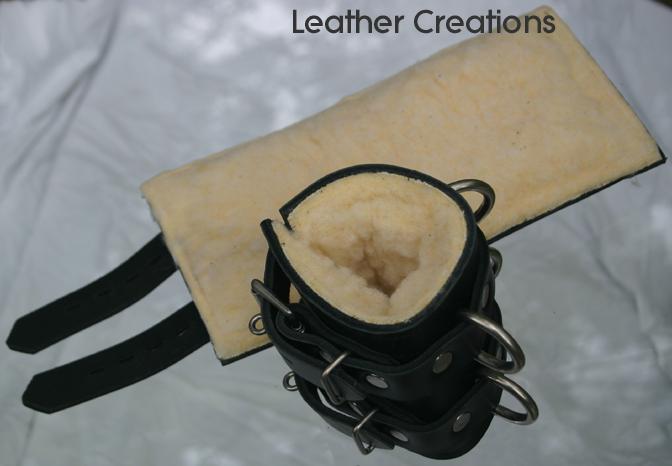 Click for larger photo
Designed much like their standard counterparts, these are however a much bigger, bolder restraint. They feature two straps instead of one, and two D rings on each of those straps.

Pictured at left is the natural color lined version in a lockable style.

By request, we are now making these available singly, for use more as a wrist band. Wear it out to the bar as a clear signal of what you are "into&quot. Use the same order numbers, and tell us you only want the one - price is 1/2 the price listed. Our shopping cart cannot support "1/2s&quot so please use your comment box to tell us you only want one, and not a pair. Your card isn't charged until we ship, and we will adjust the price down accordingly.

If you have been looking at our other restraints, you will notice the Loop and D versions are missing from the chart. We cannot offer these with them, as they get in each other's way (the bottom part of a Loop and D is much wider than a D ring).

There is no stock info on these items. Due to the wide variety of styles, we have decided to make them up to order. They are almost always ready in 24 hours or less.