| | |
| --- | --- |
| | Take the reins with these leads. Pictured is the longer one, but the shorter is actually much more popular. Made of a lightweight latigo, it has plenty of strength, but is not so stiff as to be an annoyance. |

People who like this item, often also like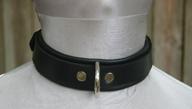 Stock information was updated from our order processing system on 12-10-2018 at 9:09 a.m.
Eastern time. It does not reflect orders received after that time.
We try to keep stock status reports current at all times when we are open.
&nbsp

Case:

&nbsp

Matching:
Can't seem to be able to check stock? Click HERE for suggestions.