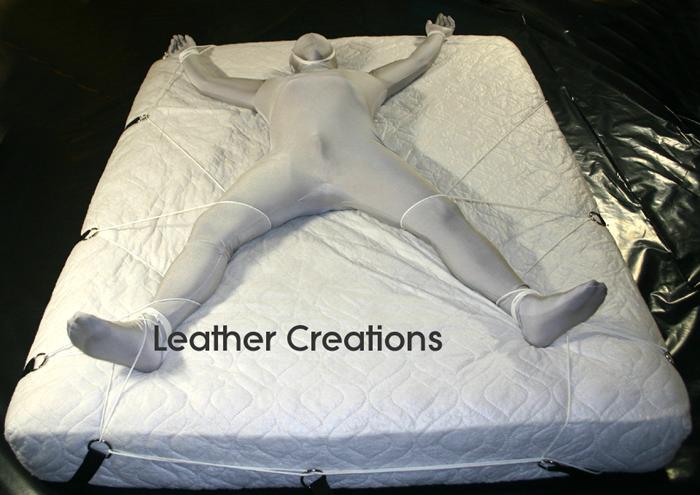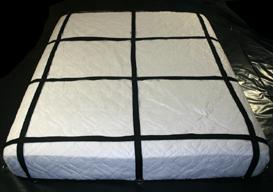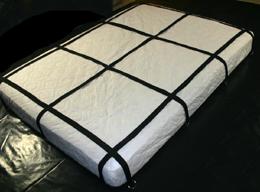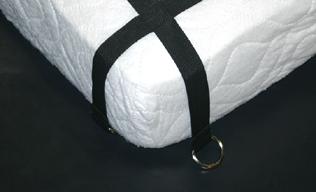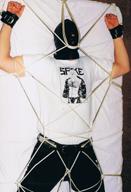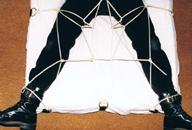 Click for basic

Click for deluxe
Named after a good friend who came up with the idea. Shown here in use on a queen mattress, the sketches show how these nylon webbing bonds are designed. The box you see in the sketch (click on one to see a close up) is to show where the mattress would lay, holding the bonds in place, which allows you to hold the person you want firmly in position. These units are portable or they will convert a bed permanently to a bondage device, and the rings can be tucked away, sight unseen, until needed again. Made of 1 1/2&quot nylon webbing, with large "D&quot rings, they have a break strength of 6000 pounds, so I doubt that you know anyone who will be ripping these apart.

These are the same bed bonds that were featured in Bound and Gagged and KW Enterprises.

You can also get the exact same design, construction, and features for about half price if you select them to be made from Poly webbing instead of Nylon. You can see them under our Poly Webbing Heavy Duty Bed Bonds

Designed to fit specific size mattresses, please select from the chart below.

Our original design was not made to fit high-rise mattresses (also called pillow-top). While they could work, the "D&quot rings were a little hard to get to. We now make them specifically for people with the high rise mattresses. Standard mattresses normally are about 8&quot high, while the high rise ones are more like 15&quot. If your mattress is between 8&quot and 15&quot then you will have to pick between the two. If you pick the high rise, the D rings will lay on the mattress a little. If you pick the standard, they will miss the top of the mattress a little. Both will work fine, but if you want all of the area available for a really good stretch, I suggest the standard.

You will note that most of these will usually not be listed as in stock. Because of the many varieties available we don't normally stock these, but make them up to order. They take only 1-2 days from the date of your order to ship out to you.