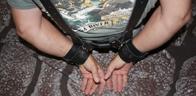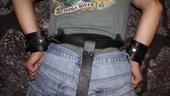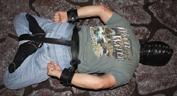 Have to give credit to one of my boys (yes, the little muscle guy in the pictures) for this fantasic (and evil) device. He has a latex hog sack, loves it, but not everyone can afford the money you need for a good one. He figured we could come up with a way to be in the same position (actually, this can be a lot worse than a hog sack, if you want it to be), and with his help, this was born.

The basic unit accomplishes the bound leg and wrist position. And a tough one it is! The hands get locked (padlocks not included - not necessary for use, only for locking) behind the back to the included belt. The (included) ankle strap stops any sideways motion (and yes, it is long enough for boots), and the crotch strap pulls the legs up folded, tight, and immobile! Won't be long before you want out of this one!

As if this is not enough, he wanted to be bound in an even tighter ball (never said he wasn't a bondage pig), and we added the shoulder strap option seen in some of the photos. This pulls you up even tighter, and folds you over into a small ball... and ball is the operative word, a little push and you are rolling over if you like it or not.

This basic unit can also be used in an on the back or stomach position (shoulder straps don't have to come off, but don't do much when lying down), and we even include the longer leather strap to allow the hands to rest comfortably but immobily at the sides when lying on the back, instead of tightly behind the back where they belong when sitting. Just check out the photos. The strap changes quickly with two screws and a standard screwdriver.

Crafted in our shop using high quality leather, and screw posts instead of rivets at stress points. The wrist assembly, which takes a lot of force once you are tied, is even made with double layers of our extra strong leather. The wrists are attached to the belt with swivels. You'll go nowhere, but you won't be forced into a painful and awkward wrist position.

Self bondage (oh come on, admit it) is also possible. Remove the strap connecting the wrists together, strap on the belt, then your legs in as hard as you can take it, pull the shoulder straps tight, and if you are really good, you can now even slide your hands around and buckle yourself into the wrist restraints! See how long you can stay that way.

Comes unassembled due to new postal regulations on oversize boxes (we would have to add quite a bit to your shipping charges). Trust me, not like an Ikea piece of furniture, all you need to do is slide the pieces on to the belt. Instructions are included with the box, and there are pretty color photos on our little strap diagram .

So get serious about tough bondage - you or your victim will love it!